NEXT ACT TEST DATE - JULY 16

ACT Test Prep
IT'S TIME TO GET PREPARED FOR THE ACT

Do you want to know how to study for the ACT? Or how to improve your ACT score?
If these are your questions, then you want to score above the average ACT score of 21.
$100K

Let's change those questions to: How do I get a 36 on the ACT?
But you don't really want a 36 - you want a full scholarship!
But you don't really want a full scholarship - you want $100K!
A 36 is just that, $100,000. On average, a four year university tuition cost is around $100K and a full ride would cover that.

That means you nor your parents are stuck with a college debt after graduation that follows you around for decades.



How to take the ACT
Taking the ACT brings on anxiety, worry, stress, and butterflies in your stomach.
That is because there are no ACT strategies in place beforehand.
The test isn't your typical exam and standardized tests don't come naturally for most kids. There are specific strategies and approaches to answering every single question on the test.
That's where we come in. With Crushing the Test, you will get everything you need to crush the test, all in one online ACT prep course, plus more...
You will have access to 6 weeks of some of the best training on the web.
All five subjects, English, Math, Reading, Science, and Writing are methodically broken down and you will learn how to reverse engineer each passage and each question so that the answers are easier to get. Your reading skill will improve to the point that the reading on the test will be a cake walk. In fact, you'll learn to tear apart the questions and passages so that you won't even have to read everything completely.


Crushing the Test gives you the strategies to do only what is required to get the right answers without running out of time. Those strategies will be what you turn into skills, and that is really what the ACT is doing - testing your skills.
We know you're busy, that's why the course is 6 weeks long; not too long that you get burned out and not too short that you don't absorb the material. Your studying will be precise and methodical.
And because of your busy schedule, we don't hold virtual meetings or one-on-one tutoring commitments to meet.


---
Jeremiah Cochran (2021) – 31 (Freshman)
Trevor Lee (2019) – 31 (Junior)
Daphne High School, Daphne, AL
---
Time is wasting - you need to be prepping.
Crushing the Test gives you the tools you need to make the scores. It is up to you to use them. There is $100K just waiting for you to get it, you just have to put in the work
Luckily for you, we tell you exactly what to study and memorize, and how to do them effectively so that when you are committing yourself to earning that $100K, you can do it with the best strategies. 
These strategies, along with our tips and tricks for the ACT, make your studying easier so that on actual test day you are anxiety free.

Just imagine the feeling of knowing you will be the most confident and anxiety free person there on test day.



---
"Michael M. of Jasper High School earned a 29 on the ACT, increasing his ACT Composite Score 3 POINTS with only 5 WEEKS of ONLINE PREP. Michael is a member of the FBLA, who can now be awarded FULL RIDE SCHOLARSHIPS! He'll be attending college DEBT-FREE."
---
What is On the ACT Test?

That, in itself, is a tricky question...
One way to answer that:
What is on the ACT is 215 questions given in 2 hours and 55 minutes, plus an optional 40-minute Writing Test. That's less than one minute per question. 
Another way to answer that:
It covers English - based on Standard Oxford British English; Math - covering everything you've learned from early elementary to 11th grade math; Reading - which pulls writings from Arts and Literature, and Natural Sciences and Social Studies; Science - includes anything from biology to Physics.
And another way to answer it:
The ACT tests you on skills they assume you developed throughout school. They include problem solving, time management, reading and reading comprehension, memorization, extrapolation, reasoning, and interpretation.
That's a tricky question for sure.
A better question to ask is What ACT prep course should I take?
Crushing the Test teaches you exactly what you need to know to answer every question.

You need the strategies that teach you the skills on how to answer ACT types of questions and Crushing the Test does that.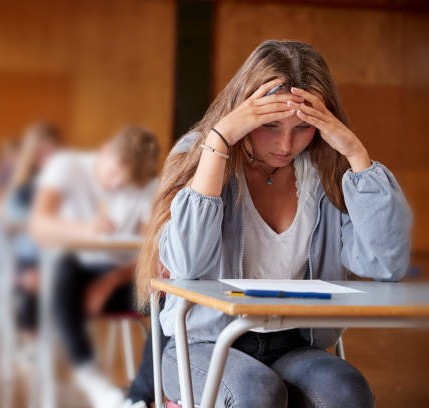 ---
I scored a 24 FIRST TRY NCAA D1 CLEARED
OWEN GRIFFICE -STUDENT
---
Course Starts June 13th for the July 16th ACT test
Have you registered for the test yet? Registration Deadline: June 17


Enroll Now and get access to Week 1: College Prep Orientation.

This is the week where you figure out the "Why" for taking the ACT.
We want you to really know what it is you want to go to college for, and is that something you want to spend your entire career on. To find this out you'll discover what your Dream Career is.
You'll build your first resume. We make it easy to do, even if you've never had a job.
Pick-6 is where you choose 6 colleges and find out how you stand with them.
We walk you thru building a virtual vision board to help you think about your life other than school and career.
You will be able to take the pre test and learn how to grade and score it to find out where you stand with ACT.
Have access to all downloads so you can start studying early.
You have an idea of what's on the ACT,
So why would you take it without prepping for it?
If you're the kid that is on the hunt for an Online ACT Prep Course,
then you know what want for an ACT score.
This is the course you need.

Don't skip this step trying to earn that $100K

---
"It doesn't matter what the question is, as long as you know the rules to answering the question."
—Valencia Belle
ACE, ACT Certified Educator
Creator of Crushing the Test
---
This website and prep course is not endorsed by ACT, Inc. ACT® is a registered trademark of ACT, Inc.