START PREPPING FOR ACT TEST DATE - December 9, 2023
ACT Registration Deadline - November 3rd
Crush the ACT and Get Into Your Dream College
with the best Comprehensive 6-Week Prep Course
Get straight forward modules that teach you how to reverse-engineer the ACT
so you know exactly what will be on the test.

For ambitious students like yourself, seeking the ultimate achievement of a full academic scholarship by acing the ACT is an absolute must.
Crushing the Test prep course is designed: 
to raise your score by 5-10 points - PROVEN RESULTS
to teach you to dissect every question on the test
to improve your reading speed and comprehension 10X
to give you only what you need to score big - no fluff
to make the clock your friend, not your nemesis
to increase your confidence in test taking
to push you past superficial ideas of college and unlock deeper understanding
to increase your test taking skills by showing you how to think differently
to help you get that full tuition scholarship

You will learn how to beat the ACT at it's own game by becoming a better student.

---
Jeremiah Cochran (2021) – 31 (Freshman)
Trevor Lee (2019) – 31 (Junior)
Daphne High School, Daphne, AL
---
Time is wasting - you need to be prepping.


Crushing the Test is a 6 week intensive study program
It's never too late to get started.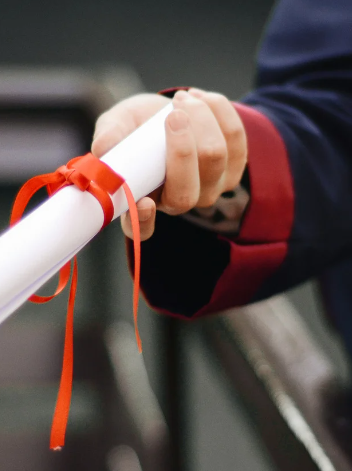 College Prep Orientation on Week 1


5 weeks of intensive studying


Compact modules to keep you on track each week


No need for Zoom class times to attend


Full printable practice tests with answers


10X reading speed and comprehension development


Specialized drills to increase efficiency


Score improvement guaranteed*
*Your effort in this course is your guarantee. Students have consistently scored
5-10 points higher after taking Crushing the Test. You must take this course serious to earn the scores required for full scholarships.
What is College Orientation Week?
Questions about college you haven't considered yet...

In this week, you figure out the "WHY" for taking the ACT.
Know exactly why you are going to college.
Discover what your Dream Career should be.
Build your first resume. Even if you've never had a job.
Pick-6 of your top college choices and find out if you meet their requirements.
Create a virtual vision board that represents your future, other than school and career.

Take an actual ACT exam to find out where you stand with your college choices.


You'll be ready for college and the ACT after you go through Crushing the Test!


---
I scored a 24 FIRST TRY NCAA D1 CLEARED
OWEN GRIFFICE -STUDENT

---
---
"Michael M. of Jasper High School earned a 29 on the ACT, increasing his ACT Composite Score 3 POINTS with only 5 WEEKS of ONLINE PREP.
Michael is a member of the FBLA, who can now be awarded FULL RIDE SCHOLARSHIPS! He'll be attending college DEBT-FREE."
---


Your Online ACT Test Prep Solution
CRUSHING THE TEST

Imagine if you knew what kinds of questions will be on the ACT, and even how many of each kind will be on it.



Imagine finishing each section with time to spare so you can review your answers.

What if you could answer questions without even having to read the entire passage?
What if you knew how to eliminate wrong answers to better your chances of choosing the correct answer?
Imagine walking in on test day and knowing you're going to crush the ACT and you have zero anxiety...
But most importantly, think of scoring a 36 and getting a full scholarship to anywhere you want to attend!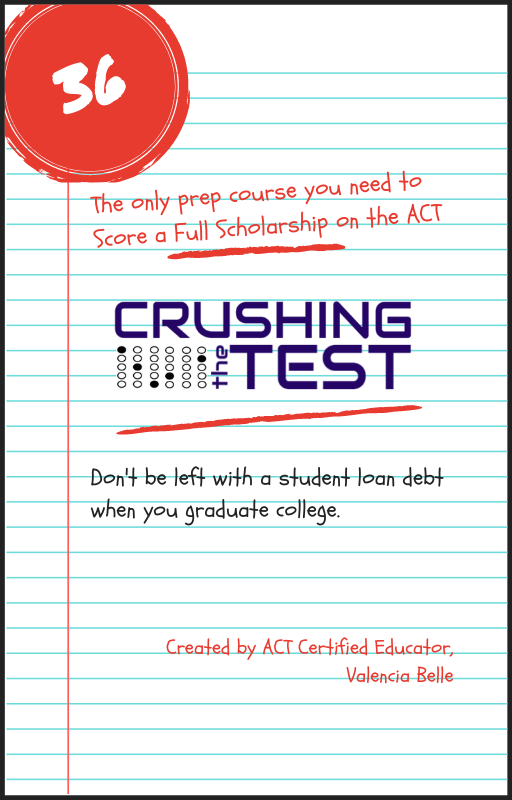 That's where we come in.
Crushing the Test can help you accomplish all of these and more. 
You need to prep with a course that teaches you how how the ACT is designed so that you can handle every question with a specific approach to get the right answer.
You need to prep with a course that cares about how prepared you are for college, and life beyond that.
In this 6 week course, you will spend the 1st week prepping for college and your future, and spend 5 weeks learning everything you need, with no fluff, to master each section of the test. Even write a perfect ACT essay.

---
"It doesn't matter what the question is, as long as you know the rules to answering the question."
—Valencia Belle
ACE, ACT Certified Educator
Creator of Crushing the Test
---
This website and prep course is not endorsed by ACT, Inc. ACT® is a registered trademark of ACT, Inc.