There's more to
Online ACT Test Prep than just questions and bubble sheets...
Do you what it really means to get a 36 to you, your parents, and the rest of your life
High school doesn't prepare you for the ACT and your skills aren't developed enough to get a perfect score.
More colleges aren't requiring the ACT for admissions. What does that mean?
Find out how Crushing the Test can put you in reach of a perfect score.
Discover the week of the course that is worth the price alone.

What does it mean to get a 36 on the ACT?

On average, a four year degree at a university can run you about $100K. Living expenses included or not, that's allot of money to have to shell out.
I know you know where I'm going with this, but stick with me... 
Let's say you want to go to an out of state university so you have to pay out of state tuition which of $15,000 higher than in state tuition. This totals to $25,000 a year. 
If you graduate in 4 years, it would cost you $100,000.
That's just tuition. You also would have to submit to the cost of living in that city: Gas, food, apartment (if not living on campus), etc. 

If you are reading this, then I'm willing to bet you or your parents don't have $100 grand laying around for your education. (or if they do, it's not for you) 

So now what do you do? Well, the easiest thing you do is prepare the best you can and take the ACT to earn a score to qualify for a full tuition scholarship. Selling Pokémon cards on eBay isn't going to cut it. Even if you have to take it twice, or 3 times. 
"Gosh, 3 times? I don't want to take it that many times!"
It's going to cost you $100K even if you don't take it once. (some colleges don't require ACT scores now)
Your prospective college my not require a perfect score for a full ride, but if you're shooting for the stars, might as well be the furthest one, right?


We've established that a 36 is the same as a Full Scholarship, and a Full Scholarship is the same as $100K.
How much is a 36 worth to you?
What's the point of high school then?
The national average score for the ACT in 2021 is 20, which fell from a 21 the year before.
That average comes from 1.3 million students who took the ACT in 2021.
Why are these scores so low? It's no secret that the ACT has some of the hardest questions you've ever had to answer on a test, but why are these questions so hard?
ACT doesn't test you on the content you learned in school, they test you on test taking skills you are expected to learn in school to answer the hard questions. 
What skills? That's the real question. Can you name any skills you learned from high school? (I'm not talking about being able to use the Pythagorean Theorem or picking out a dependent clause from a sentence.)

How about: data extrapolation, reasoning, interpretation of conflicting viewpoints, problem solving, reading comprehension, just to name a few.

Did you specifically or passively learn these skills?
Did you have a class called Extrapolating and Interpretation 101 in school?
Didn't think so.

High school and earlier doesn't formally prepare you to take the ACT, the one test that could keep you out of the college you want to attend. Sounds like high school is backwards... Kindergarten prepared you for elementary school, which prepared you for junior high, in turn prepared you for high school. So it seems like high school should prepare you for college, which would include the ACT.

Unfortunately it's up to you to take on this task of prepping for the ACT.

But it's actually not unfortunate, because you can choose to get the best prep out there that has you shoot for a 36, and gets you prepared for college in ways your counselor hasn't even helped you in.
You have to decide that's what you need.
Test Optional Colleges aren't FREE


Roughly 3 million freshman enrolled into colleges in 2021 nationwide. 
1.3 of those students took the ACT. That's a only third. Why?
Many colleges dropped the admissions requirements of ACT/SAT scores during Covid-19.
Although some will bring it back by 2016, many others will continue or become "test optional" colleges. 
This is great news if you have plenty of money to pay their tuition fees, or you want to party yourself in debt.
Whether or not your future college is "test optional," they still hand out full rides for perfect scores.

Which "Why" is more important to you?
Why should you should prep for the ACT?
Ben Franklin said, "By failing to prepare, you're preparing to fail."

You need to get a 36 - which is a full ride - which is $100K by taking a difficult test.
You know you should prep, but do you know WHY?
A student loan after 4 years for $100K is about 
A loan for $100K with an interest rate of 4.66% for 10 years is a $1044 per month.
Read that again. Let that sink in for a sec because I'm about to add some pain to that very realistic calculation.
You have a six month grace period before the 1st payment is due. In that time, you have to find a job in your career field, where ever that takes you, set up your living scenario, or apply and prepare for another college degree, where ever that takes you.
Just about the time you finish all of that, in comes your first $1044 payment. 
Without fail each month, that has to be paid. 
Depending on how well you kept your credit up during college, this monthly payment can be a credit killer.
Let's fast forward 5-7 years. You have a good job, but you also have a house payment plus bills, a car payment and insurance, gas, food, and entertainment. 
Oh, and you still have to add in the monthly student load payment of $1044. All of this can easily add up to thousands a month in bills.
Can your parents handle that kind of payment? Should they bare that expensive alone?

Many students go into default and ruin their credit because of their student loan obligation. When this happens, it gets harder to make big purchases or get loans and credit cards at reasonable rates.

That monthly payment can also hinder the finer things in life that you would want. Knowing you can't buy something you want or take a vacation somewhere you enjoy. 
So that's one reason why you should prep for the ACT.

Another reason is the anxiety of the test. 
You know that feeling of anxiety before a big test. You worry, fidget, get sweaty palms, butterflies, and even forget your own name, you're so stressed out.
How does it feel when you don't study for that big test? 10X worse, for sure.


If you haven't yet taken the ACT, I can tell you that that anxiety is heavy.
The stress of the test
On test day, once you are seated and ready and the clock begins, that's when the real stress starts. It's English, and you see there are 75 questions and 45 minutes has just started. Will you finish in time? Once you start the test
You quickly come up to a question you can't answer. You keep reading the sentence over and over to yourself, but but you can't figure out the question. When 40 minutes gets called, you look as you turn to Math and see you weren't even half way finished.
Now 60 minutes starts and 60 questions have to be answered. Triangles, circles, fractions, square roots, 10³ x n = 4y, and word problems, and you think, How am I going to do this?
When the suffering of math is over, and a 10 minute break, you sit down to start 40 minutes of Reading. How are you going to read all of this? 4 stories with 85-95 lines of text in each. Then you have to read the questions. And then the answers... and before you know it, time's up and you didn't even get to the last story.
Science immediately begins with another 40 minutes on the clock. But wait, there's no science, it's all reading of experiments and studies and hypotheses. Charts and bar graphs and scatter plots are all mixed in the experiments. 
This is insane! ...and time us up. You didn't even get to do the last one which was 2 scientists arguing their own versions of results of how mitochondria within a cell performs due to the exposure to different types of proton beam radiation therapy.

Just when you thought it was over, you forgot that you opted to take the writing test. 
All the other kids except for a few get up and leave. 40 minutes starts and you see you have to write an essay.
The instructions say write a unified coherent essay about a story and choose a perspective about it and defend it.
HUH?? Wait, WHAT??

That scenario is common and could be possible for you. 
There is so much when it comes to taking the ACT.
That's because so much is riding on this test. The financial burden after graduating will follow you for years.
I would be more stressed about that than taking the ACT.

Your Online ACT Test Prep Solution
CRUSHING THE TEST
Imagine if you knew what kinds of questions will be on the ACT, and even how many of each kind will be on it.
Imagine finishing each section with time to spare so you can review your answers.
What if you could answer questions without even having to read the entire passage?
What if you knew how to eliminate wrong answers to better your chances of choosing the correct answer?
Imagine walking in on test day and knowing you're going to crush the ACT and you have zero anxiety...
But most importantly, think of scoring a 36 and getting a full scholarship to anywhere you want to attend!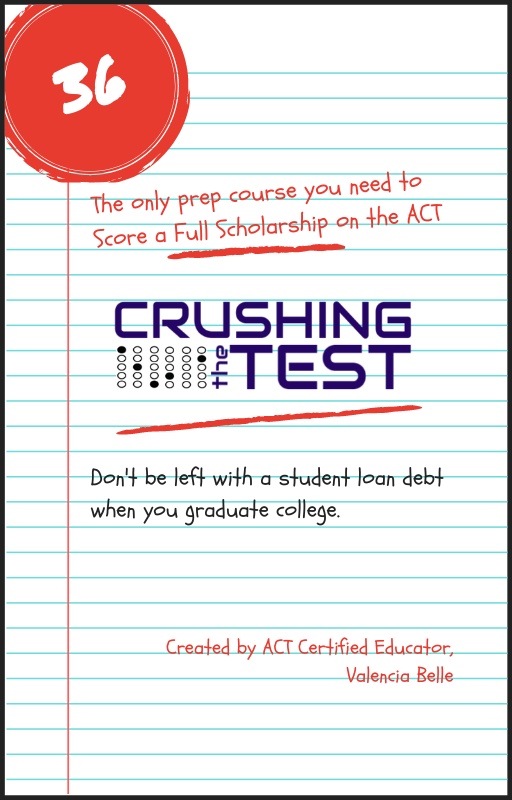 That's where we come in.
Crushing the Test can help you accomplish all of these and more. 
You need to prep with a course that teaches you how how the ACT is designed so that you can handle every question with a specific approach to get the right answer.
You need to prep with a course that cares about how prepared you are for college, and life beyond that.
In this 6 week course, you will spend 5 weeks learning everything you need, with no fluff, to master each section of the test. Even write a perfect ACT essay.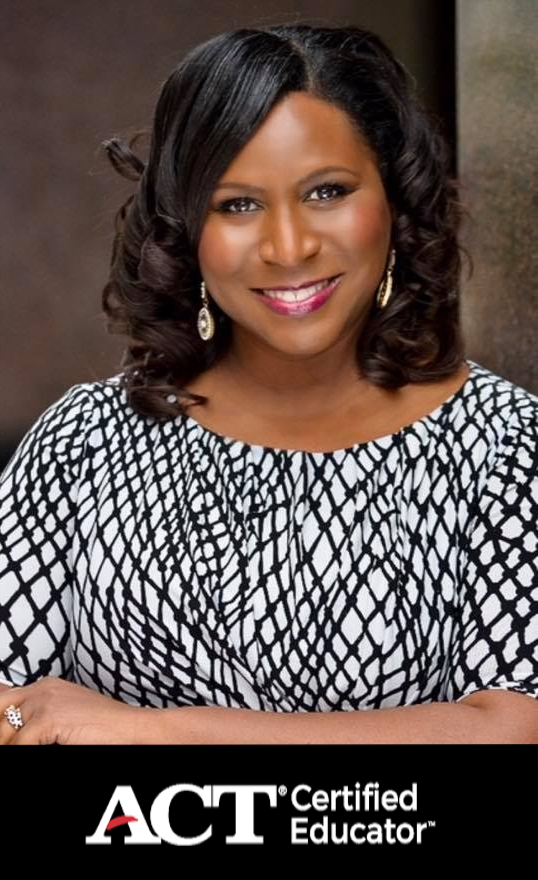 Introducing
Valencia Belle BS, BSN, MSFS, PhDc.
ACT® Certified Educator™
Creator of Crushing the Test
Valencia Belle is one of a select few ACT Certified Instructors globally and actually writes questions for the ACT.
She is a Scientist, Author, and Entrepreneur who has spent her career helping to shape young minds by opening up the possibilities of "STEM" careers in Science, Technology, Engineering and Math.
With her method high-quality and cost-effective ACT PREP, she created the Belle Method of Academic Currency and was demonstrated at Harvard, MIT, USC, and Wharton.
Valencia scored a 26 on her 1st attempt at the ACT in the 7th grade.
At the age of 12, entering high school as freshman, she began her first fee-for-service tutorial business assisting fellow students with ACT Prep in Science and Math.
Valencia was a Freshman Track Scholar Athlete, becoming a D-1 early academic qualifier for the NCAA.
While attending Murphy High School, Valencia thrived in sports, and in civic service and in Science and Engineering. She was chosen as the Alabama SECME and one of 7 NACME Scholars in the country
Valencia graduated high school with a perfect score of 36.
Because she made a 26 going into high school, had a $100,000 refund that was renewable for four years.
Valencia received her first Bachelor of Science Degree from the University of Alabama, where she majored in Biology.
She made the Dean's and the President's Lists. 


Valencia not only was chosen as a Distinguished University Graduate, receiving the Bloom Award, one of the top three University honors given for improving inter-faith and inter-group relations, but was also honored as one of the University's first minority IRBP Summer Fellows at the National Institute of Allergy and Infectious Diseases' Laboratory of Infectious Diseases for the National Institutes of Health in Bethesda, Maryland.
She now is dedicated to helping students and athletes in high school, junior high, and even as early as the 3rd grade prepare for the ACT.
Valencia created this course to help kids score their highest, so that no-out-of-pocket money is required to go to college; and in some cases get a tax free refund from their scholarship aggregates.

For a minimal investment of time and money, that is, the cost of the actual ACT test and the cost of the Crushing the Test, multiple parents and students have saved HUNDREDS of THOUSANDS of DOLLARS in college costs.
See what parents and students are saying...
"My son's score increased from a 15 to a 30, in JUST 5 WEEKS!
He's accepting his FULL RIDE ATHLETIC SCHOLARSHIP this week!"
Mrs. Bracy -parent

"Great program where students get out what they put into it. Excellent ACT prep for my son. Really opened his eyes to college life! Thank you Ms. Belle!"

S. COLVIN -parent
Jeremiah Cochran (2021) – 31 (Freshman)
Trevor Lee (2019) – 31 (Junior)
Daphne High School
"MS. BELLE…SHE MADE A 28 ON HER VERY FIRST TRY!!!
THANK YOU!!!"
M. Hines -parent
"I got a 31 in Reading and English!"
LAURA -student
"HIGHLY RECOMMEND this program. Both of my twins experienced a significant increase on their ACT after going through the program. This program just helped both my boys have scholarship opportunities they never would have had. Forever grateful to Ms. Valencia Belle"
S. Dotson -parent
"I scored a 24 - FIRST TRY - NCAA D1 CLEARED"
OWEN GRIFFICE -student

Are you ready to start your 6 week journey to $100K - FULL RIDE - 36?
July 16th is coming up quick.
NOW IS THE TIME TO ENROLL
HERE'S WHAT YOU GET:
Crushing the Test ACT Online Prep Course
Score a Full Scholarship
Week 1: College Prep Orientation
This week will prepare you for college and after college in ways you haven't before. Things like building a resume, researching your dream job, creating a vision board, and finding out your choice college requirements for scholarships and more. This week includes taking a pre test.
Week 2: English
Week 3: Math
Week 4: Reading
Week 5: Science
These 4 weeks have the same format.
You'll watch an intro and tips video before taking a practice test on that subject; grade and score and watch explanation videos for the answers.
Mid week involves videos that break down everything you need to know to reverse engineer each type of passage and question.
They are followed by guides for you to print and study.
The week ends with taking another practice test to see how well you learned the information.
The beginning of the last week you will take a post test, this score will tell you how much you got out of this course and give you the best idea of how you will do the following Saturday.
If you are taking the Writing test, then you will spend 2 days learning how to write an essay that will get you all 12 points. You're going to give everything ACT expects in as essay by learning exactly what to write.
We know you are busy, you have a schedule to keep like everyone else, so Crushing the Test does not have scheduled class meets on video, nor do we have 1-on-1 tutoring to commit to.
Everything you need is in the course.

Get What No Other Course Offers...
Your course starts with Week 1: College Prep Orientation.
You won't see this in any other ACT prep course.
We want you to truly know what you want from college and what your career choice is really about.
For this first week, you will:
Pick-6 colleges and find out what it takes to enroll and what it takes for a full scholarship. These choices will be colleges you want to consider, possible or not.
Build a Dream Career outline of what you think you want to be or if you don't know yet what you want to do when you grow up.
Build your first resume. We'll show you how you can have an irresistible resume, even if you don't have any work experience.
Design a Virtual Vision Board to get you focused on other aspects in your life. You need goals on paper, and this is a fun way to do it.
But get ready, you will take a pre test at the end of the week. You'll learn how to score it to get your composite score. This will be your benchmark or starting point. It'll be time to get to work.
This entire week is work the price of the entire course.
This valuable information you will obtain from this week will be like no other college prep out there.